Is Cervical Spondylosis curable by Naturopathy Treatment?
Cervical Spondylosis affects more than 85% of people over the age of 55-60. As usual, there is no visual indication of cervical spondylosis. Symptoms of cervical spondylosis include pain when moving the neck, stiff shoulders, back pain, etc. Due to this significant disability life becomes very painful and stressful. Sometimes a person can feel walking difficulties and not be able to rotate the neck on backside. Sometimes people have problems sitting on a toilet pot.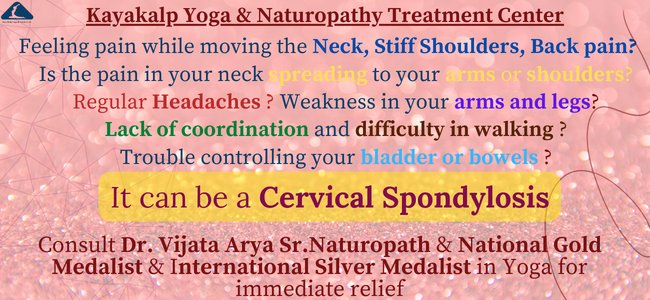 The allopathic doctor never suggests exercise. They only suggest painkillers that stop only the sensation of pain, such as "loud music is playing," and we use eardrops to overcome that sound pollution. We again face the same sound pollution as eardrops will be removed. The same situation applies to painkillers. It only suppresses not cures. As the medicine takes effect, the pain begins to subside again.
Some exercises to overcome cervical spondylosis.
Three types hanging on a round pipe
Method– Keep the neck straight and the eye towards the pipe. Until the pipe is found, it will hang from a stone, tree peg, cupboard, etc.
Every 15 to 30 seconds, it hangs 3 to 6 times. An unserviceable person takes half or a quarter weight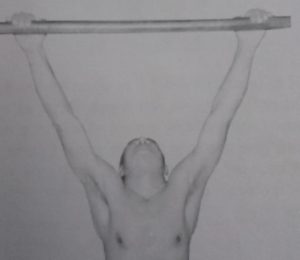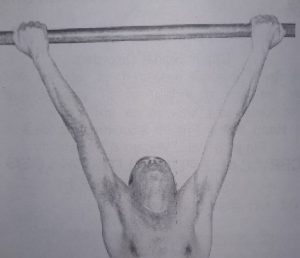 .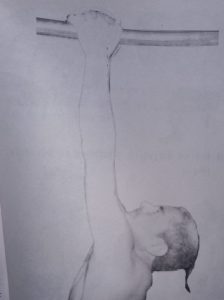 Precautions: –
You get more comfort by hanging more. Do not hang or rest less than the way, the pain increases.
During the menstrual period and after three months of pregnancy, women did not hold on.
Hanging in the morning on an empty stomach.
Do not hang out for 1 day after a long day.
Do not panic if the lumps on your hands grow.
Four Thumb posture (from the chair)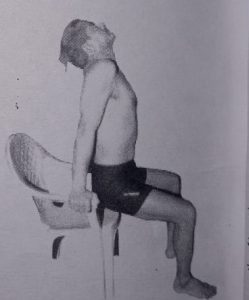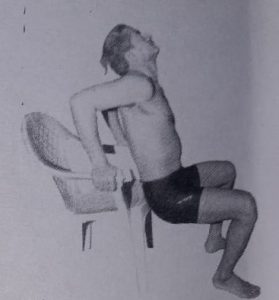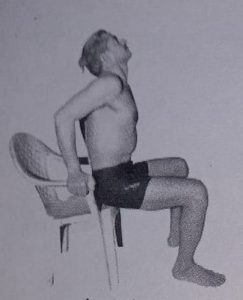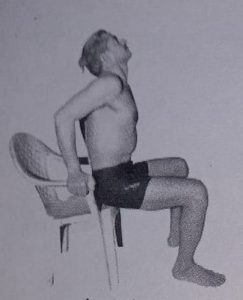 Method: –
Lift the hips 6 to 12 times. Stay up and down for 5 to 10 seconds.
Sit on the chair every time in between.
Keep the neck and waist straight.
You can also sit on a chair. This makes the weak muscles strong again.
During your stay at Kayakalp Yoga and Nature Cure Training Institute, Sohna Gurugram you'll have access to all the facilities and amenities you need to perform this exercise safely and effectively.
If your cervical pain is unbearable, you should consult Dr. Vijata Arya Sr. Naturopath & National Gold Medalist & International Silver Medalist in Yoga. You should take naturopathic treatment for immediate relief.
Since 1968, Kayakalp Sohna has been working with Dr. Brijender Arya and has won the Bhishma Pitamah Award from the Ayush department. We treated thousands of Cervical spondylosis patients successfully. We recommend that if you or someone you know suffers from cervical pain, you share this information with them and tell them to join our 7-day Yoga & Naturopathy Program at Kayakalp Yoga Naturopathy Treatment & Training Center Sohna so they can see the miraculous results for themselves.